Video for Change initiatives can contribute to a number of different types of social change[1]. Below we've compiled a list of these changes that builds on BritDoc's Impact Dynamics and our own research and consultations with Video for Change practitioners.
1. Changing Structures
The abolition or alteration of existing government, institutional or corporate policies or the creation of new ones (policy change).
The abolition or alteration of existing laws or the creation of new ones (legal change).

Altering the practices of governments, companies or institutions (practice change).
2. Changing Minds and Behaviours
Altering individual or collective attitudes and behaviours (behaviour change).

Altering the way certain groups or issues are represented in the media and/or public sphere (representational change).
3. Building Movements
Creating relationships, either by building or sustaining them (relationship change).

Supporting new interaction and dialogue, by creating new spaces for communication (discourse change).
4. Building Capacities
Increasing people's knowledge, skills and access to information, or developing institutions to support and sustain movements (changing capacities).
Case-Study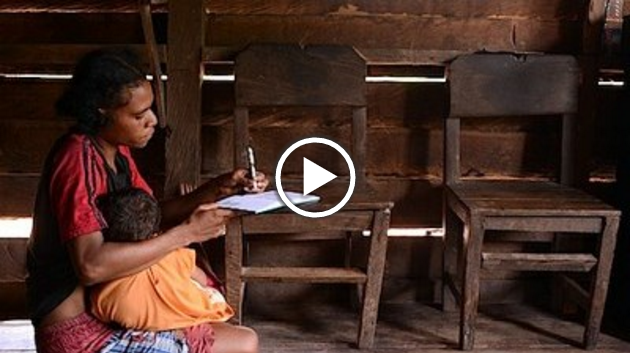 Love Letter to the Soldier tells the story of Maria 'Eti' Goreti, who was still a school student in 2008 when she was courted by Samsul Bacharudin, an Indonesian soldier from Java who was stationed at her village in Bupul, near the border of West Papua and Papua New Guinea.
Samsul left Bupul when Eti was five months pregnant and promised to return; but Eti never heard from him again, even after the birth of their daughter, Yani.
Wenda Tokomonowir collaborated with Eti to tell her story.
Impacts of the film included:
At the personal level: the subject of the film, Eti, reported that the video helped her to be better understood in the community and this enabled some community understanding and empathy (changing minds and behaviour). The film won an award and Eti was given half the prize money to support her family (building capacities).
Change/impact at the community level: Eti used the prize money to contribute to a cooperative she is part of, they then used this money to help them start a small indigenous medicine business (building capacities).
Change/impact on filmmaker (process): the film-maker learnt new skills, travelled to screenings and film festivals, won an award; these successes supported an increase in confidence and her profile as an activist and film-maker (building capacities).
Supporting other organisation's activities (women's rights and human rights): the video was used by women's organisations to talk about issues relating to women's rights in Indonesia and West Papua. Papuan organisations focused on human rights used the video to discuss human rights issues and violations in West Papua. In one case it was presented to a UN Universal Periodic Review committee to assess the human rights situation in West Papua (changing structures).
Amplification of voices: the video has been screened more than 50 times both nationally and internationally. It's been used by schools, universities and advocacy organisations as a tool for discussion, education and mobilisation (building movements).
Read the full case study here.
______________________
[1] Notley, Tanya. (2013). Video for Change Impact Evaluation Scoping Study: A Summary of Key Research Findings.