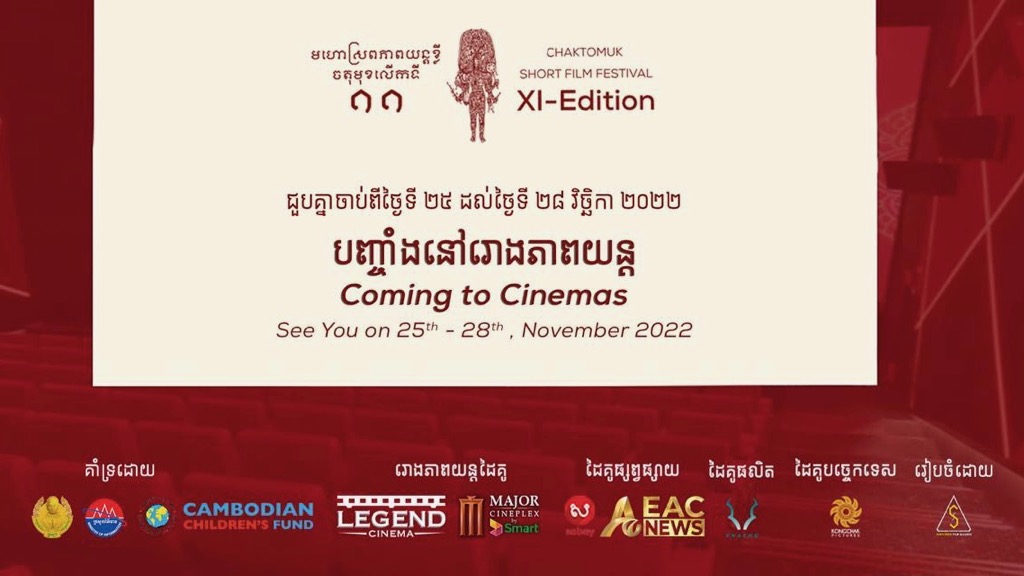 By Sunflower Film Organization
Festival director Mr. SUM Sithen is ecstatic to announce that the 11th edition of the Chaktomuk Short Film Festival (CSFF) accepted 185 short films and selected 55 entries for competition and showcase, noting that two selected titles have received multiple awards across the globe.
"These confirm that, from year to year, young Cambodian filmmakers strive with their polished skills to produce works worth festival recognitions, especially by CSFF," Sithen said in a press release.
More awards also await filmmakers this year. All the selected films will be screened in cinemas, including the Chaktomuk Conference Hall, Legend Premium Noro Mall, and Major Cineplex by Smart – Sorya.
"I really admire the efforts of Sunflower Film Alliance for organising this festival. This year, I heard, despite budgetary constraints, [that] CSFF has reached its 11th year, the same age as our cinema group. We continue to promote both Cambodian short and feature films to be screened at our place," Mr. PHAN Phou, general manager of Premium Noro Mall, stated.
On November 25, CSFF opens with the short film California Dreaming by an independent female filmmaker, Ms. MEAS Sreylin. It tells about the bond between two women from different backgrounds. The film has received international acclaim.
For its closing film, the festival will feature the short film Mother's Tongue by Mr. Jean-Baptiste PHOU. The story focuses on the filmmaker's nostalgia about his late mother, a Cambodian of Chinese descent, who fled the war to live in France. It is a multimedia short film that combines video, animation, sound pieces, and contemporary drawings. The festival will run until November 28.
CSFF was made possible with the support of the following local institutions: Ministry of Culture and Fine Arts, Ministry of Information, Cambodian Children's Fund, Purin Pictures, Legend Cinema, Major Cineplex, Sabay News, EAC, KongChak Pictures, Snaeng Studio, and Frutati.
The festival still accepts further financial support through ABA – SUNFLOWER FILM ORGANISATION – 000 804 814.
For more updates, visit the following pages: