Ahu Parmalim is a short documentary film by Indonesian foundation Kampung Halaman. Founded in 2006 in Yogyakarta, Kampung Halaman offers a space for young people to learn and understand the potential and challenges within their own environments through media. Kampung Halaman focuses on young Indonesians, whom they invite to make video diaries. These diaries are participatory video processes, facilitated by more experienced video-makers, and rely more on the process, than end-results. Final videos are screened locally, followed by discussions with stakeholders. Kampung Halaman runs an online video depot where hundreds of video diaries are archived and made available.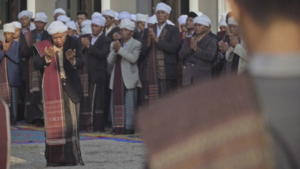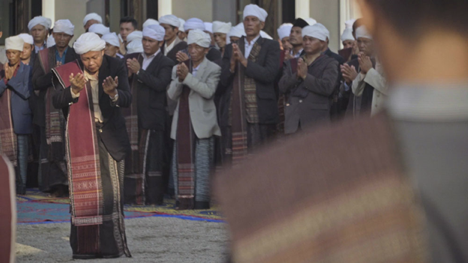 Ahu Parmalim translates to: 'I am a Parmalim' in Batak, the local languages spoken by the Batak people in Northern Sumatra. The short documentary follows 17-year-old Carles Butar Butar going about his daily life in Northern Sumatra. Carles is a Parmalim, an active follower of the Malim religion (Ugamo Malim). Viewers are acquainted with the religious practices of Ugamo Malim and get to know Carles as a friendly, diligent and intelligent young man. He is well respected, performs above average in school, and is highly devoted to his religion, family, and his country. Notwithstanding his simple background, his parents are farmers earning just enough to survive, Carles, dreams of becoming a policeman. Through Carles inquiries, we also learn that believing in 'the one true God' is a mandatory condition for becoming a policeman in Indonesia.
Every Indonesian citizen is free to choose his/her religion, a right clearly stated in article 28E of the Indonesian constitution. Nonetheless, minority groups and adherents of indigenous beliefs, such as Ugamo Malim, have always been subject to discrimination. They have to struggle not only to receive recognition and protection from the state but also to gain equal access to various public services. Carles' case is no different. "We learned that Carles was rejected to join the Indonesian Police because he was not a follower of one of Indonesia's main religions" explains Chandra, manager of education and technology at Kampung Halaman.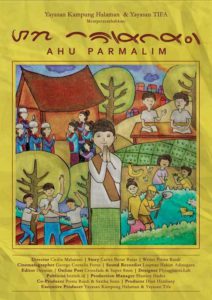 This simple, yet intriguing short documentary, made on the sidelines of facilitating video dairies with teenagers in North Sumatra, has been able to open up discussions in Indonesia about religious freedom and tolerance. Ahu Parmalim premiered on International Tolerance Day (16 November 2017) at 40 locations across Indonesia simultaneously. Within three months it was screened over one hundred times. As we near the end of 2018, Kampung Halaman still receives requests for screening. Ahu Parmalim has been screened and discussed all over Indonesia, in Australia, Malaysia and toured briefly in the USA.
Initially, screenings took place through network organizations of Kampung Halaman. Hosts received a screening guide and various one-minute animations movies (2 examples of which can be seen at the start of this video) were prepared to introduce and provide background information on key topics. A special website (in Indonesian) collects past and upcoming screening dates and locations, gives background information, has an online form to collect screening reports and documentation, while those interested in hosting a screening can send in their request here.
After initially posting the film online, Kampung Halaman decided to take it offline and only share it directly with those interested. "We were doubtful that just counting hits would allow us to measure any real impact of the film," Chandra explains. "The fact that Ahu Parmalim has vastly surpassed its initial goal of twenty screenings and the many comments we are getting from screenings are better indicators for its impact."
The success of Ahu Parmalim is in part due to national events, occurring completely out of the film-makers control. A 'landmark ruling' by Indonesia's constitutional court, late 2017, officially affirmed the rights of devotees of faiths outside Indonesia's official recognized religions. From now on these devotees no longer required to identify as either Muslim, Catholic, Protestant, Hindu, Buddhist or Confucian on their national identification cards. This decision and the media whirlwind it stirred in Indonesia provided tremendous momentum for Ahu Parmalim, with many audiences seeking to understand what these 'alternative faiths' actually entail. The timing of the release of Ahu Parmalim could therefore not have been better. The director of the film, Cicilia Maharani, acknowledges this fact:
"We are grateful that finally, the film found its own audiences. The discussions after the film screenings created a better understanding of local religion believers like Carles."
Watch an interview with Cicilia Maharani, the director of the film "Ahu Parmalim".