Most smartphones today enable you to share your videos a number of ways. The easiest way to do this is to open your video using the Gallery app and select the 'Share via' option. From a Samsung Galaxy Note 3, you'll see options to share video via Bluetooth, email, Facebook, SMS, within other Android apps such as S Note or Scrapbook, YouTube, Skype and others.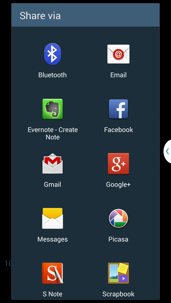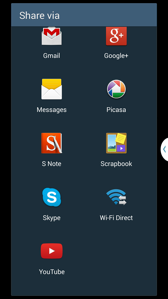 You can share finished video with individuals, publicly, or you can use the default sharing options to upload your video to other sites for further editing. Keep in mind that many of these sites, such as YouTube, will censor graphic content and content that uses copyrighted material. See the hands-on lesson later in this guide for how to upload a video to Dropbox, YouTube and Vimeo.

Hosting an Independent Video Site
Sometimes you will want to post your video on alternative sites. You can reduce your reliance on services like YouTube by aggregating your video and self-hosting it on WordPress or other platforms. For more on how to do this, see this Video for Change guide to hosting an independent video site.
Submitting your Mobile Video Directly to News Agencies
Another option is to upload your mobile content directly to citizen video portals or established news agencies. Demotix, for example, is a network for freelance and citizen journalists. Other sites include AllVoices, NowPublic, GroundReport, Al Jazeera's Sharek and CNN iReport.
Keep in mind that each platform will have different terms and conditions, and you'll want to review and understand these before you share any content.
Another Option for Real-Time Video Storytelling: Live Streaming
Live streaming from your mobile device is a popular approach to capture and share breaking news. For more information, please see this Video for Change guide on live streaming.