Jorge Alban Dobles
From ARTENEMO
San Jose, Costa Rica.
http://www.artenemo.org
ARTENEMO is an organization that experiment with technology, art and society. Without a great infrastructure and with open software,this project tries to communicate every day experience from normal people so they can listen to each others and search for a social change.
This organization with Voces Nuestras has work with young migrants so they can used technology to narrate their own stories and problems. Since 2009 we have train journalist, photographers and artists in order to become conscious and expose social problems through the web.
Roberto Stefani
From Centro de Derechos Humanos Miguel Agustín Pro Juárez
Mexico City.
http://www.centroprodh.org.mx
Video is a powerful tool for education. Help to raise awareness and educate people about a certain problem. Is specially useful in places where is hard to find written means or in communities where people can not read. In my experience, is very useful because people can get involve in the making of and they become the main actors. It also has an external impact for social complaint and to gather communities or groups who are in similar situations (education).

Ricardo del Conde de la Cerda
From Emergencia MX
Mexico City
http://www.emergenciamx.org
The visual is a tool, and sometimes a weapon for social transformation. The truth is that we handled media at will. It is a possibility that we all have. However, it is our commitment to inform with honestly. Such values are essential to train media workers of today and tomorrow. Knowledge does not belong to us, we only transits and we must replicate.
The aim is to bring the tools for the people who are interested in using technology as a way to expose something for their community. But those people involved, have to have the vision and the ability to understand that they are training teachers, not students. That each person who receives knowledge, is the responsibility of replicating at least 3 more people, who in turn do the same. So we created a network of committed people and create true capabilities against monopoly power information system prevailing in this world.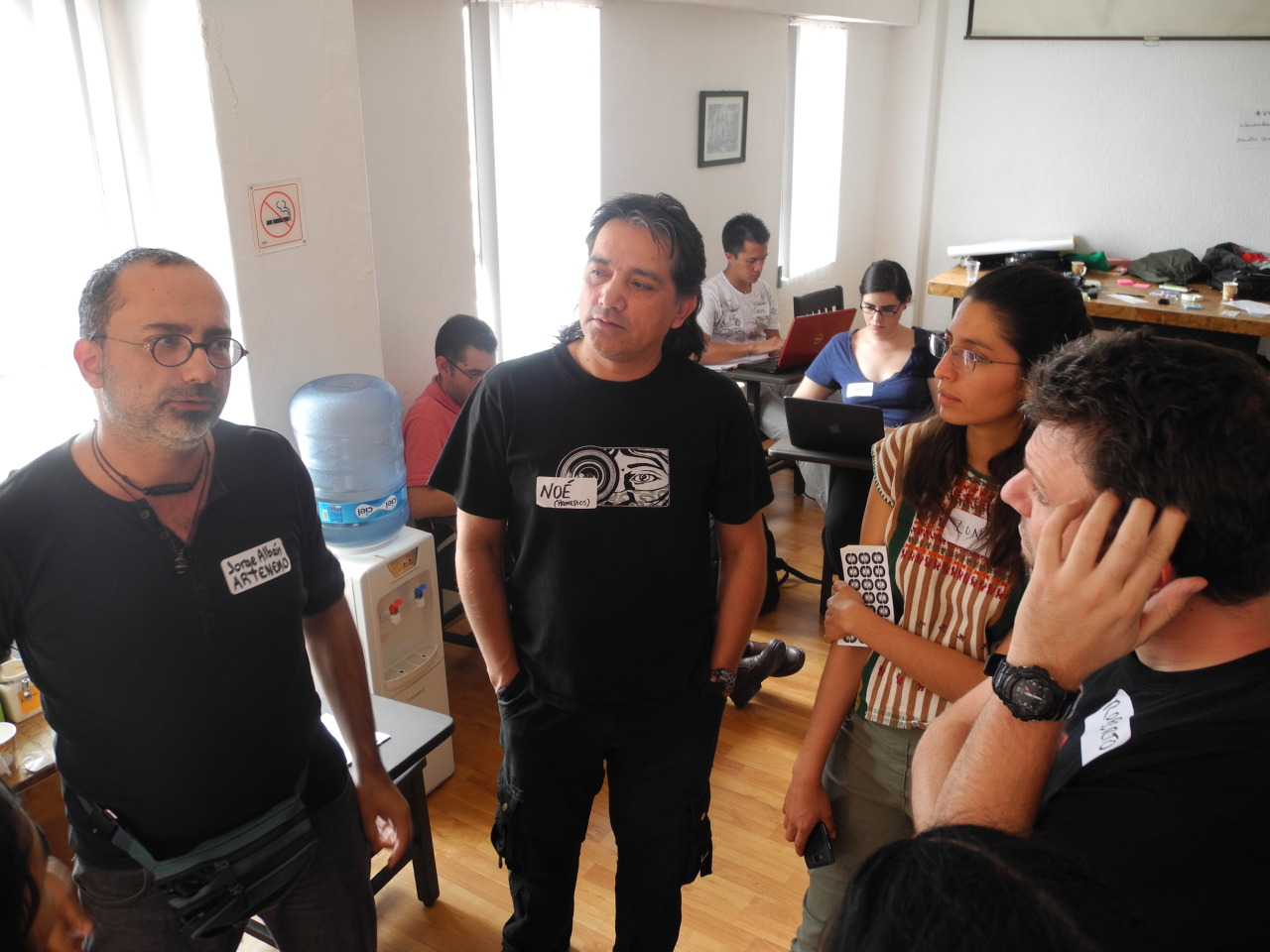 Mónica Monroy
From Filma Filmae
Mexico City
http://filmafilmae.org
We use video for social change based on the possibilities that this powerful tool have. It can be very creative, reflective and critical. We train workshop participants for a social use of video and we encourage them to explore the world around them and their own through. The images have effects in the persona and in the society. The works carried out in the workshops generate a reflection in two ways: allows participants to perceive and accept themselves within their parallel reality so they form a relationship in which both parties, must accept themselves and recognize that the other also belongs to its reality.
Fernando Lenin Carcache Bello
From Fundación Luciérnaga
Managua, Nicaragua.
http://www.fundacionluciernaga.org
Based on the combination of the theories of Social Change Communication and Edutainment – Tufte , T. (2003). Telenovelas , culture and social change : from Polisemy , Pleasure and Resistance to Strategic Communication and Social Development. UNICEF – by synergy between multi – métodoo formats , multi – levels and through strategic alliances with commercial television , it has reached more than 2 million viewers in Central America. The fiction allows to recognizing domestic violence as a serious situation of violation of human rights and engage to exhibit the problem and to generate critical thought . It encourages the audience to become aware against violence and to identify protective factors based on equity . Through Guidelines or Educational Packages we want to create awareness and to educate communities,national organizations , journalists and social communicators.
The stories in Loma Verde, promote awareness and prevention of domestic violence , where victims , make use of legislative frameworks to ensure their rights. The overall strategy, includes activities with girls and women of all ages and the development of tools. Based on edutainment formats,experiential methodology such as games,as well as processes that articulate participatory research, training and wide dissemination of their results, these actions contribute to the ability to influence different areas .
Emilie Reiser
Digital Democracy
Port au Prince, Haiti.
http://www.digital-democracy.org
The theory of change is based on my work with various organizations, is more a theory of the use of technology for social change and is based on the idea that when a person learns to use and manipulate a new technology, it change the way you perceived your own influence on the world and their ability to make the change. From this process, I have seen how communities , especially those who have now access to technology , have been able to strengthen their strategies to mobilize and defend their rights and increase their confidence .
For Digital Democracy , photography and video is used as input to a community, resulting from the first day the possibility of capturing the way they see members of their community and enables to open a conversation about the challenges and objectives of change. The product of these activities are used as a basis for the development of strategies and technological systems to give more visibility and strength to his advocacy work .
Noe Valladares
From Escuela de Video Mesoamericano
San Salvador, El salvador.
http://www.acisam.org
The video is a form of democratizing communication and therefore giving the general public the opportunity to traditionally excluded sectors to express the way they see the world, their dreams, their demands and thereby promote pluralistic communication .
Mesoamerican Video School works to develop youth community video with communities in countries such as Nicaragua, Guatemala, El Salvador and Mexico, so they can produce audiovisual materials from their perspective. The training has two modes: the concentrated consisting of youth gather for classes and then a training for the production of materials. The use of materials is presented in the community in a public square.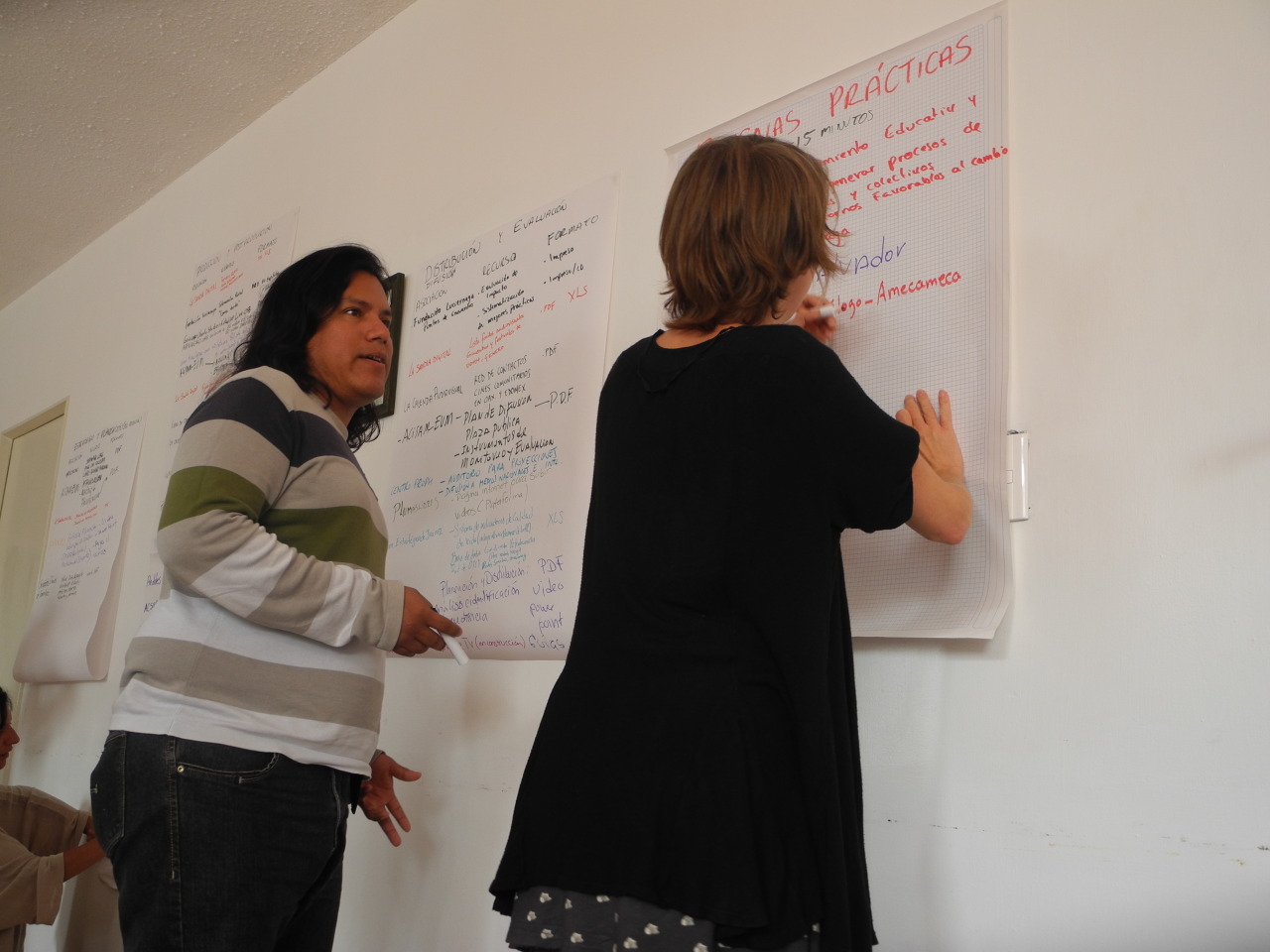 Mariana Musalem Ramos
Luna Martínez Andrare
From La Calenda Audiovisual
Oaxaca, Oaxaca, Mexico.
http://www.campamentoaudiovisual.org
In the Calenda Audiovisual we stimulate and strengthen the development of creativity, skills, aptitudes and abilities of children and youth in Mexico by creating opportunities for training, promotion, distribution and exhibition of art, as well as supporting the production of their projects to renew the image of themselves.
We demystify that cinema is an art destined only to the privileged classes, film is able and available to everyone, and beyond the technical prowess and big budgets, the importance lies in the stories told. Film is a powerful tool for cultural emancipation especially in areas where it is difficult to access other artistic areas.
Emilia López Guzmán
From Luzkemada
Mexico City
http://luzkemada.worpress.com
In Luzkemada we think that the video is a tool for social transformation, which has several levels of impact:
To spread social transformation and information histories little known in the world.
Increase confidence and security of people.
Increased participation of local communities especially the youth.
Creates a network of solidarity.
We have given workshops in rural communities where it seeks to create a dialogue between technology and tradition. The objectives are based in the community needs, the economic and the technological resources that are available.
José Luis Matías Alonso
From Ojo de tigre
Acatlán, Guerrero, Mexico.
http://ojo-de-tigre.blogspot.mx
The mission of the group Ojo de Tigre, is the production and dissemination of video that talks about indigenous peoples from the state of Guerrero, from the perspective of the indigenous filmmakers, their cultural background their struggle and resistance against transnational projects.
The image has a stronger impact and raises awareness and facilitates communication in different cultural contexts.
In Ojo de Tigre training workshops are held in camera to record social movements , the violation of human rights to promoted respect and tolerance towards the other. It seeks to develop training workshops on organizational processes, promote respect for otherness with social commitment and provide an alternative to the misinformation and the globalization of a hegemonic culture
Noé Pineda Arredondo
From Promedios de comunicación comunitaria
San Cristobal de las Casas, Chiapas, Mexico.
http://www.promediosmexico.org
In Promedios we are convinced that communication is a tool for social transformation and a basic human right.We believe in the reappropriation and media creation by the company as a key element in the processes of organization and resistance , in the need and the right to tell our own stories in our own voices.
A few years ago , few people had the ability to document in video human rights violations, gave testimonies but today, the right for freedom of expression generates discourses so people express their points of view and strengthens their identities.
We organize workshops with indigenous organizations and civil society in the topics of video , photography and internet. We only give training to groups not to individuals.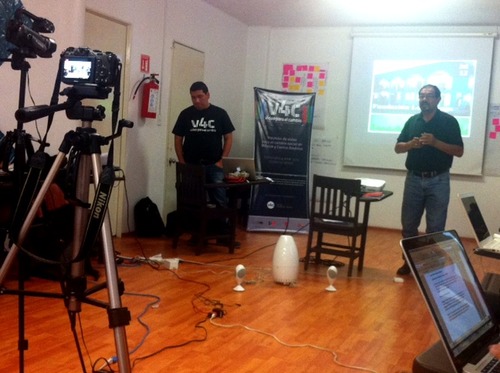 Jesús Manuel Ochoa Vargas
From Plan Estratégico de Juárez
Ciudad Juárez, Chihuahua, México.
http://www.pactoporjuarez.org
Through audiovisual material, we can make a change in peoples life. It is the best way to introduce a common situation that shows how it affects you and what can you to change it. The current mindset is not discursive, we want to show the ideas through images.
PEJ working topics are: Citizen participation, social control and accountability, public policy advocacy, community, quality of life indicators.In the department of communication, we develop video, social media and graphic design.
Miguel Ángel Díaz
From Plumas Libres
Xalapa, Veracruz, México.
http://www.plumaslibres.com.mx
The video is a powerful tool for raising awareness about an issue of citizen involvement in human rights and social change. The population exposed their problems that traditional media do not report.
In the organization,we recruit young people to produced documentary films focused on social struggles.
Carlos Manuel Robles Hernández
From Red Tz'ikin de Realizadores Independientes
Guatemala, Guatemala.
http://realizadorestziking.org
For the network of filmmakers Tz'ikin the video helps the incidence and political education for social development processes based on moving images that reflect issues and realities that people live.
In the framework of the Second International Film and Video in Defense of Life and Territory 2013, organized by the network Tz ikin Audiovisual workshops for young Community Community (women and men) looking to get started in this field and / or improve the quality of their work.
Network members Tz'ikin use different production methods and training based on the permanent support to communities, documenting the problems and then disseminate them in various ways one of them from the 2012 Film Festival and Video in Defense of Life and Territory
Fabián Ramos Covarrubias
From Sociedades Filmicas de Tamaulipas
Tampico, Tamaulipas, México.
The project Sociedades Fílmicas de Ciudad Madero proposes a gradual and successful transformation of traditional cinema clubs to greater social projects, now calling Community Cinema Club through new exhibition spaces as the backbone of the film public activities , creating an alternate circuit facilities and open spaces project known as Red de Cine Clubes Comunitarios.
The documentary Flai Emiratos was an initiative from the Film Society project called CEDES – Altamira . This project consisted of training a group of inmates to do their own Film Club. Two months later once the inmates were moved by the appreciation of documentary films and some fiction , ushered in the second step of the project , a workshop on documentary video production . In this way the inmates learned the use of the video camera and the lighting equipment mounting , sound recording , develop pre-production and plot of the critical path to make a documentary . Most internal group belonged to a football team , so they decided to take this story to the documentary . Over a year recorded history Flai Emirates, his journey throughout the tournament , uncertainties , hopes and environments that prevail within the prison .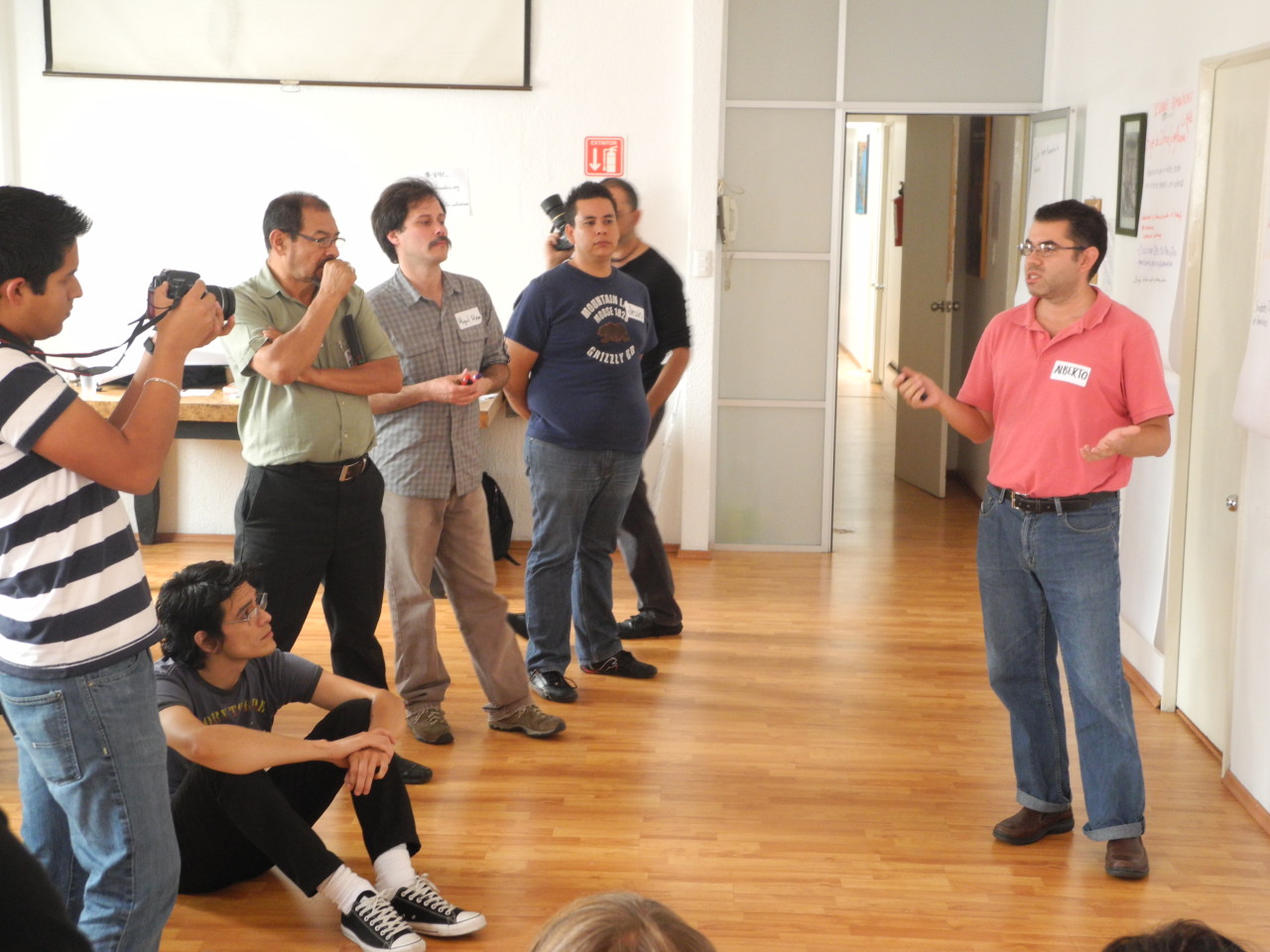 Román Hernández Rivas
From Tlachinollan Centro de Derechos Humanos de la Montaña
Tlapa, Guerrero, Mexico.
http://www.tlachinollan.org
We believe in the use of video as a vital tool to document, report and disseminate defense processes, promotion and implementation of human rights. We use the video as a teaching tool in training processes, as input information in community assemblies, as well as a tool for social action invite. To Tlachinollan to show a video is to open a window into the reality of others who struggle and are organized by the observance of human rights, which in turn can become a mirror that invite change our environment.
From a case of human rights violation, or a process of accompanying demands organized people and / or exercise of human rights, we locate the specific aspect we want to communicate or it can serve to invite action and solidarity of other organizations or sectors of society concerned with the accompaniment.