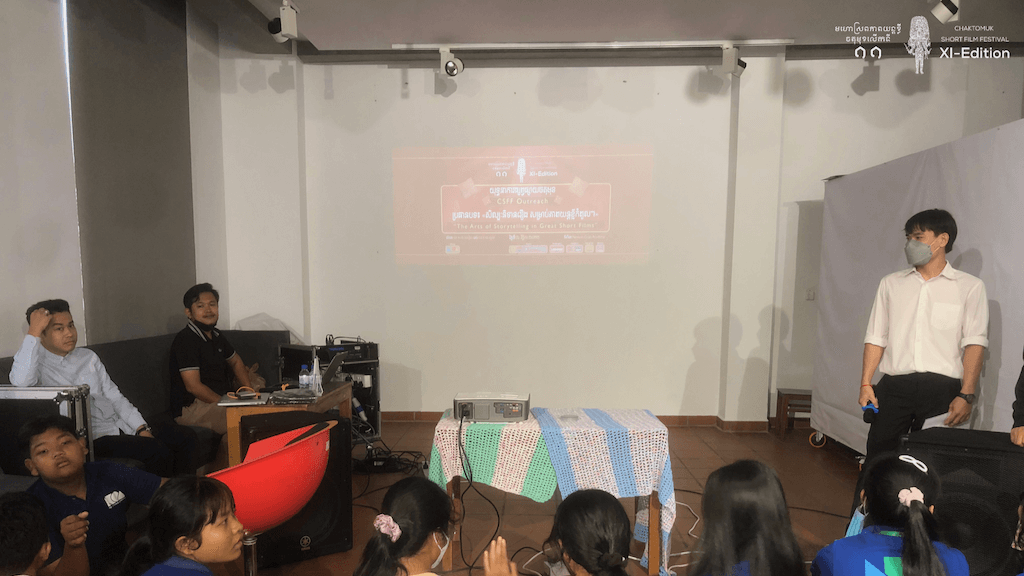 By Sunflower Film Organization
Mr. CHAP Somchanrith, winner of the 2015 Chaktomuk Short Film Festival (CSFF), shared his experience on using different storytelling styles in a session called "The Arts of Storytelling in Great Short Films"​​​​​​​ held last November 4. The event was organised by Neeson Crips Academy (NCA) in collaboration with the CSFF as part of their outreach campaign to promote the upcoming 11th edition of the festival which will be held from November 25 to 28, 2022.
Somchanrith, who won the CSFF's top award in 2015 for his short film A Fistful of Pebbles, shared his filmmaking experience and different storytelling styles for his work, which include music videos and commercial shorts. "I was very happy to participate in this campaign and share my filmmaking experience with our young generations. The NCA students were very active and cooperative," said the independent filmmaker.
Miss Morn Theara, an NCA student, said the outreach event was a valuable learning experience. "If you just watch these films with your naked eyes, without paying attention to each sequence, they may end up meaningless. But if you review them in depth, you will discover some educational concepts behind these films and also reflect on current social problems," she said.
The outreach event is conducted every year before the festival's four-day screenings begin in cinemas, said Festival Director Mr. SUM Sithen. "I also hope that all participants will be able to learn more from these films. This event will also help our youth decide whether to attend the screenings from November 25 to 28," the director added.
All screenings and events of the 11th edition of the Festival will take place at the Chaktomuk Theater, Legend Cinema – Noro Mall, and Major Cineplex – Sorya.
Organised by the Sunflower Film Alliance, a youth collective under the Sunflower Film Organization, the festival has been celebrating the culture of socially-engaging short films and supporting up-and-coming Cambodian filmmakers since its founding.
For more updates, visit the following pages: