(Read this article in Spanish or Italian.)
Film festival organizations and filmmakers are noticeably making their works available to the public at this time when most of us are under lockdown. Unlike short advocacy videos, films premiered and shown in festivals are rarely accessible to the public. Surely, the availability of "film festival films" online at this time is something to be happy about.
One thing lacking in our usual online viewing is the sense of community that we feel in theatrical or collective screenings. I think a 'Watch Party' presentation can somehow emulate that feeling. We can react, give comments, and probably even have a talkback after screening a film.
This short research is intended to deepen our knowledge about screening platforms that include co-viewing and audience interaction. For a film to make an impact, co-viewing and audience interaction are essential. They provide mechanisms for feedback and collaboration between video producers and viewers.
This research also looked at alternatives to Facebook and Youtube — corporate social media platforms that are both known for their interactive features. Given the privacy issues that hound these two companies, it was worth attempting to look for alternatives.
I also see limitations on Facebook and Youtube because their "Watch Party" features are restricted to videos they host: a Facebook Watch Party can only be made for videos uploaded on Facebook, and the same goes for Youtube Premiere. Certainly, Facebook and Youtube host millions of videos but not all documentary filmmakers use these platforms for various reasons.
Alternative Platforms
Mycircle.tv and Watch2gether are platforms that allow co-viewing of videos from Youtube, Vimeo, and even from file-sharing platforms like Dropbox and Google Drive. The process is simple for both websites: you create a room, share the link to your friends, and chat while watching the video. There is no need to register and sign-in to use some of their basic services. The creation of a video playlist is also possible on both platforms. Watch2gether allows the use of your web camera, making talkbacks possible.
Privacy Concerns
Both being "freemium" sites allow users to enjoy its services for free, but customers are charged for additional features and content. Information that we provide to them, including data related to the videos we streamed, can be used by these companies for other purposes.
Free and Open-source Software
CyTube is a web application that allows co-viewing and interaction through its chatbox. Viewing and chatting do not require a log-in, but if you wish to set up a channel, you need to register. It supports several media providers, including Youtube and Vimeo. For self-hosted content, some kind of techie tweaking needs to be done. The user interface is simple, but I would not describe it as intuitive. I had to refer to its wiki in GitHub to understand how it works. With practice, I became more comfortable controlling playback and sequencing videos in the playlist.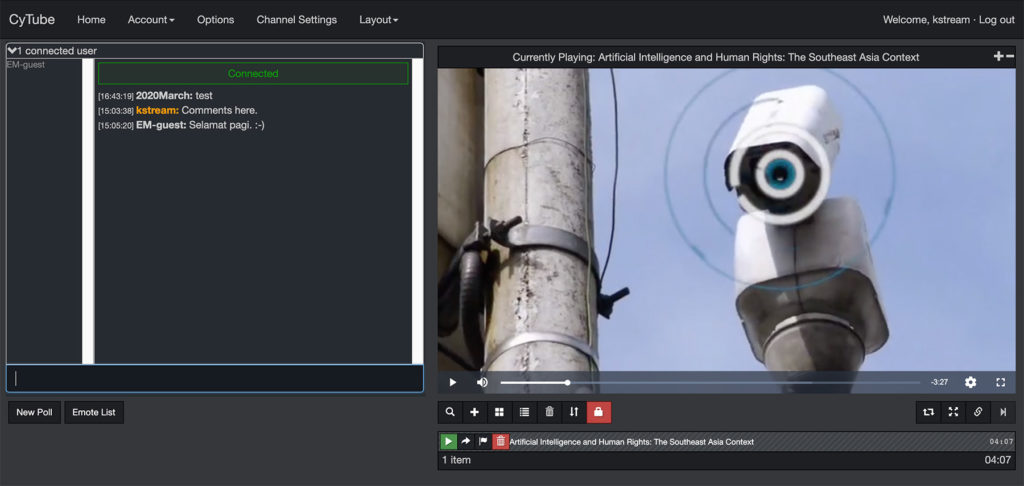 Off the bat, it was working well with the browsers I used. Overall, I'm happy with Cytube. The fact that it is free and open-source makes me feel digitally secure.
Big Film Festival Platforms
Ovee, an online platform based in the United States that has co-viewing and live Q and As. Filmmakers need to apply through an intake form, and the site will notify if approved within 72 hours. For filmmakers and producers outside US public media, the cost per film starts at USD 500.
Using a Vimeo Premium account that costs USD 75/month subscription, you can live stream, co-view, interact, and host a Q and A using their platform. Graphics branding is also available on the website and interface of the player.
Other Platforms to Consider
Another platform from big media is Periscope, the live streaming service of Twitter. Primarily, it is a platform to screen live videos to your Twitter feed. But through Open Broadcast System (OBS), a free and open-source application available in many operating systems, videos from a computer can be streamed live here. Viewers can then retweet, comment, and even give emojis while watching the video.
Twitch, Mixer, and Smashcast are live streaming platforms that primarily cater to online gamers wanting to share their live plays. All feature co-viewing and audience interaction. Twitch is attempting to attract non-gamers by opening channels about music, art, and talk shows.
Combining Platforms
CinePop Buridda, a collective in Italy, is experimenting with Vimeo and a Telegram channel to continue hosting film screenings and discussions under the lockdown.
Learning about this from the Radical Film Network's mailing list, I took part in the experiment. CinePop Buridda led the screening of Lost Citizens, a documentary about the uncertainty of employment when a big mining company in Sardinia, Italy closed shop.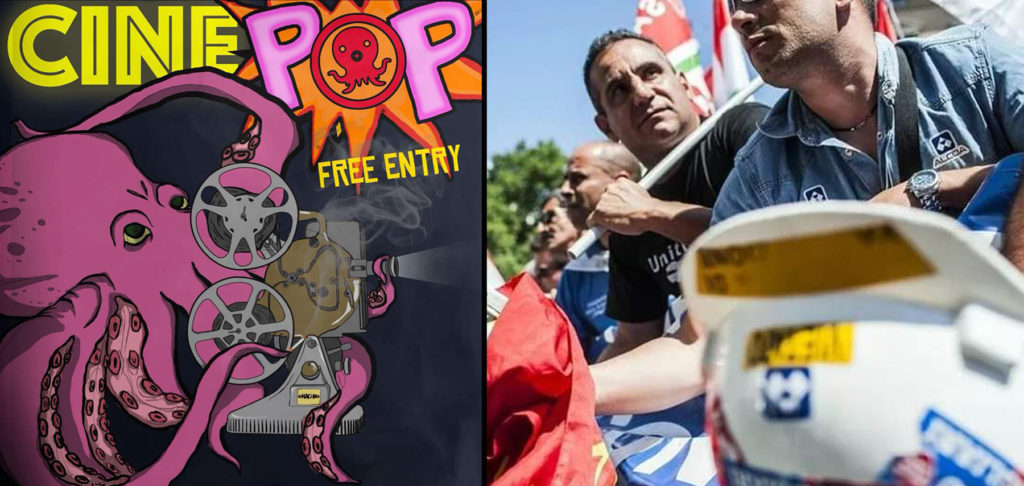 The screening was asynchronous as we all hit the play button in our own time. I was a few hours late because of the difficult time differences. Still, there was a feeling of excitement while watching the film knowing that others before me viewed it and that in case I have questions or comments, I will have the opportunity to interact with others about the film.
CinePop Buridda's screening did not use one tech platform, but as a participant in that experiment, I felt fulfilled. There was a strong feeling of solidarity about workers' welfare reading through the messages in the Telegram channel. And lastly, we may be physically apart and under enforced lockdowns, but a powerful film can still connect people and give comfort in these troubled times.
About the Author: King Catoy is the Video Lead of EngageMedia. He is an independent documentary filmmaker and alternative media practitioner in the Philippines.