In October 2019, dozens of activists, video-makers, and members of organisations fighting for human rights and environmental justice participated in the Video4Change South Africa gathering, which was organized by InsightShare, with the support of EngageMedia, Witness, and Video Volunteers.
Some time has passed since the gathering, but the positive vibes, connections, and inspirational sessions are still resonating. One of the biggest breakthroughs has been the official registration of the Pan African Living Cultures Alliance (PALCA) as an International NGO in Kenya. Listen to this discussion to learn more about PALCA and the Maasai's struggle for land rights.
Also, the Video4Change Impact Toolkit, a great resource for everyone using video to harness positive social change, is about to start a global outreach campaign. Again, the seeds for that campaign were planted in South Africa.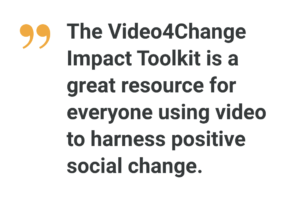 Furthermore, the WhatsApp group of participants is alive and kicking. Remarkable things are being shared. As an example, take this amazing database of indigenous films. If such a wide selection seems overwhelming, here are 6 of them handpicked by CBC. We also saw this video of the gathering, made by the Amadiba community youths who joined the gathering. And talking about positive developments, today, this same Amadiba community is an official partner of InsightShare.
Additionally, there's an in-depth background article in The Ecologist about the gathering, written by Nick Lunch from InsightShare. There's even a whole series of short videos on various themes discussed at the gathering. And, of course, there's EngageMedia's beautiful official video of the event. Finally, if listening is more your thing, here a very insightful roundtable discussion on identity in South Africa recorded at the gathering.
As I noticed things were still very much alive, I recently took the initiative to invite some of the participants to share their feelings. Out of all the responses, I'd like you to introduce you to those of Mozes, Noni, and Mark.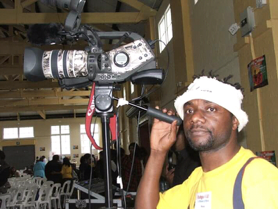 Mozes is a citizen journalist, an activist, a video maker, and a refugee from Congo DRC who currently lives in South Africa.
"l came to the Video4Change gathering with one vision in mind: to build collective power, one voice [Sahuti Moja], to promote best practices in the areas of natural resources management and conservation, and, most importantly, to promote the recognition of indigenous and other traditional knowledge systems and their strategic relevance in addressing issues of biodiversity, conservation, and harmonious living with nature."
"I feel the gathering was a real breakthrough—a once in a lifetime experience. Joining has shown me that l had lost contact with traditional roots. As a result, l had no moral or spiritual compass to guide my life. With the help of the Maasai activists present… I could get back to true life: the values of Ubuntu."
Next is Noni, from Sunshine Cinema, a South Africa-based organization that uses solar-powered mobile cinema to create social impact. Noni felt the event offered her so much more than she had expected.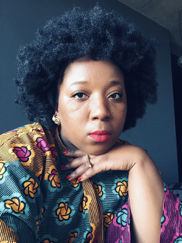 "I enjoyed the practical activities on creating short and sharp videos for quick sharing. I learned that we don't have to seek perfection, but we have simple techniques we can use to point a camera and tell a story. I've had the opportunity to share these short video skills with the young people I manage, who are based in rural parts of South Africa."
"I learned how other organizations/activists use video through Witness's presentation and the Open Market, where various people shared what they are doing."
"It feels like I traveled to all the countries where everyone was from. I miss everyone. We should meet for follow up on the conversations we had, to strengthen alliances and start with the 'doing' part—as a collective."
Interested in learning more about Noni and Sunshine cinema? Here's a short video interview with her, shot during those practical learning sessions on making short videos she mentioned above.

Last but not least, Mark, an audio journalist, podcast producer, and security specialist from Cartara, who facilitated a session on how to stay safe as an activist using video in volatile or high-risk situations.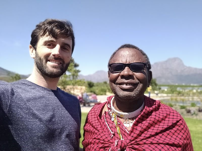 "The Video4Change gathering was something beautiful that I feel very fortunate to have been a part of and to continue being a part of. It inspires me to not only do my own work, but actually to change how I approach the work I have been doing. I miss it. Take me back. This was only a beginning to something long-term. Because memories fade, especially when it comes to specifics, we need to pool our ideas and resources to see what is possible and useful." 
Isn't it beautiful to see how this event keeps inspiring people? Hopefully, we'll update you later on more things that have been happening. I sense 2020 has plenty more in store for us. And if you're feeling inspired and want to know more about this event, or some of the other work we are doing here at the Video4Change Network, please leave a comment or drop us a line.